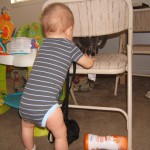 Blake and his mom took Ben for his nine-month check up. His stats are:
Height: 29.5″
Weight: 19.6 lbs.
Head circumference: 18″
According to this growth percentile calculator, Ben is in the following percentiles:
Length = between percentile 75 and 90
Weight = between percentile 25 and 50
Head Circumference = in percentile 50
Meaning he's taller than most, thinner than average, and has an average sized head – like usual.
His two bottom teeth are mostly in. And he has two top teeth that are breaking through – those things are big!
In terms of clothes, he's now in 12 month stuff, 18 months if we're talking onesies. I'm trying to predict what size he'll be in when it gets cold in a couple months, and also on his birthday. I'm guessing 18 month stuff.